Dance Into What Makes You Happy
As we come to the end of one year and the start of the next, the same constant barrage of messages, ideas, and opinions is thrown our way. "New Year, New Me" "Progress, not perfection" "A New Year's resolution is something that goes in one year and out the other." Sometimes these messages come across as though we must change ourselves to be "good enough" to be accepted. This can be a damaging idea for any of us, let alone for the impressionable minds of our children. The good news is, like us, children are resilient, and they take things in as they experience something, often looking to their parents and role models as a guide on how to react. With this in mind, it can be helpful for us and our kids to work through how our values line up with the world around us. We are looking to understand inclusion, the need for self-love and acceptance, and how group thinking can impact how we see ourselves. The movie Happy Feet movie more than delivers.
Happy Feet tells the tale of a tone-deaf Emperor Penguin, Mumble, unable to sing like his fellow penguins. The need to be able to sing is intrinsic to the penguin community in which he lives as they look to find a mate; it's their 'heart song' that is the key to their mating ritual. Where he can't sing, Mumble is a beautiful tap dancer who comes alive with his joy for dancing. Still, this fact remains lost on his tribe as they are focused only on the differences Mumble presents himself with, leading him to spend a lonely adolescence as an outsider.
Accept Your Flaws
For all his time spent being ridiculed and rejected by peers and even his father, who struggles with his son not fitting in, Mumble works to see his own worth. Mumble is just 'too different' for the other penguins, especially for Noah the Elder, the leader of Emperor Land, and ultimately casts him out of the community. As he finds himself truly alone for the first time in his life, Mumble meets a group of penguins who don't look or act like the penguins he grew up with, the Adelie Amigos. Instantly his new friends embrace Mumble's cool dance moves and invite him to join them in fun and dancing.
While meeting others with a different perspective than what he grew up with, he can start the process of self-analysis rather than conforming to the belief surrounding his lack of a heart song. As Mumble continues his journey, his new experiences allow him to start to find acceptance in himself. It is important to note that we should never let the opinion of others hold us back, and Mumble's continued perseverance in the face of disapproval from his peers, his singing teacher, and even his own father make for an excellent opportunity for you to point this out when watching with your child.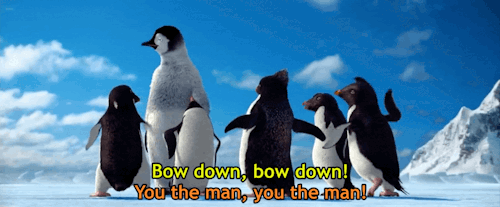 Turning Your Weakness Into Your Strength
Mumble's journey doesn't stop at finding acceptance from a new group of friends but involves facing danger and captivity on his quest to understand and seek answers to struggles facing his home. Meeting Lovelace, a rockhopper penguin who will answer any of life's questions for a pebble. When they question Lovelace about the origins of the construction equipment found in an avalanche, he connects it with aliens along with the plastic six-pack rings around his neck, which he claims were bestowed upon him by mystic beings. Later, when he's found choking due to the same plastic, he admits that he became caught in them while swimming off the forbidden shores.
In discovering this truth, Mumble and his friends set off to find these aliens, who they believe are responsible for the dwindling supply of fish in their waters. While on their journey, they are attacked by Orcas, and while they manage to escape, Mumble finds himself alone on the shores of Florida, where he is 'rescued' by the aliens (humans). This leads to his ultimately being placed in captivity at sea world with yet another type of Penguins. Mumble struggles not to succumb to the perils of being held captive, which brings back the feeling of seclusion for him, and he tries fruitlessly to communicate with the humans.
Luckily his authentic self is still alive, and when a little girl tries to interact with him through the glass, he starts to tap dance, attracting a crowd. By being himself, his dancing highlights his uniqueness to the humans who set him free (with a tracking device attached to his back). By accepting his ability to dance rather than sing, he found strength within himself to search for answers and find ways to persevere through both moments of danger and isolation and the strength to return home despite being exiled. He eventually proves to his colony how powerful dance can be as he encourages the other penguins to distract the humans through dance when the research team tracking Mumble shows up to find his colony. The footage of the dancing penguins led to the banning of overfishing, leaving his colony to see the value in allowing Mumble to be himself rather than trying to force him to conform into behaving like them.
Do What Makes You Feel Good
While it wasn't easy for Mumble to push back against the ridicule and exclusion, he faced for not being able to sing and choosing to dance, dancing was part of who he was. It brought him true joy, and he didn't let the other penguins think he was weird stop him from dancing like no one's watching. He did what made him feel good. In doing so, he was able to get through so many bad times by accepting his differences and using his happy feet to find joy even in the misery of captivity. Finding friends who accept him for himself in the Amigos, finding strength in his quest for answers, and finding a solution to the problems facing not just him but the other penguins in responding with a strength that is organic to who he is as an individual. In finding love for who he is, he finds his true love in the end by being himself despite not having a heart song.
This year instead of trying to decide what you should resolve to change or ridiculing those participating, challenge yourself and your family to instead look at the things about you that are different. Are there things you find yourself trying to change, hide, or improve that can be viewed from a different perspective? Can you be grateful for all the things, weaknesses, and strengths that make you unique? Take a chance to step outside the norm and challenge the collective mindset. Ask your child what they see in you, in themselves, and work together to see and accept each other as you truly are then watch as you dance your way through a year of acceptance, using mindfulness and gratitude to turn a perceived weakness into your strength and simply doing more of what makes you feel good. Ask yourself what it is that lights you up inside.
A self-described geek, Maria Laquerre-Diego is a CEO and Owner who is committed to increasing access to mental health services and breaking down the stigma surrounding therapy services. As a therapist turned CEO, Maria has developed a unique perspective when it comes to mental health and the barriers surrounding mental health treatment. Influenced by her time at New Mexico State University in the Family and Consumer Science department, and University of New Hampshire's Marriage and Family Therapy department, Maria has turned her dedication to giving back and supporting future generations of therapists. In addition to supporting mental health providers, Maria takes an active role in addressing the continued stigma of mental health services through the use of pop culture – everything from movies and television shows to superheroes and Disney characters. Maria has spoken about mental health at several local events, has served as an officer on professional boards and has provided training to clinicians all over the country while maintaining her and her family's roots as Aggies! Outside of the office, Maria can be found spending time with her family and loved ones, exploring the world through travel, and creating cosplays for herself, her husband and their two little ones. Maria is always happy to talk about Star Wars, Marvel and mental health and can be contacted through her practice website www.anewhopetc.org